Principal's Welcome 2022/23
I would like to extend a sincere welcome to you on behalf of all our staff and students at St. Anne's Community College.  Our management team and teachers are committed to providing a high standard of teaching and learning in a safe and caring environment where young people can reach their full potential.
Our students avail of a very broad curriculum and the most up-to-date facilities which include a new PE Hall and Changing Facilities, Fitness Suite, Dining Area, Computer Rooms, Home Economics Rooms, Metalwork/Engineering Rooms, Science Labs, Art Room, Playing Pitch, Basketball Courts, Astro Pitch.  Each year our students excel academically.  Our overall results average is consistently above the national average.  This year we have introduced Leaving Cert PE as an extra subject to our curriculum in response to the changing needs of our students and society.
Our transition programme from primary to secondary school has proven to be very beneficial in successfully integrating our youngest students to our school each year.  A 'Peer Mentor' system for first year students ensures that all first years feel connected to the school community at an early stage.  Our first year 'Teacher Mentors' monitor student progress, listen to student feedback and provide guidance to students.
Through our Pastoral Care system, Chaplaincy and Code of Positive Behaviour we promote an inclusive and caring environment where the unique talents of all students are valued and encouraged.
To provide for the academic welfare and wellbeing of all students, each year group is led by a Head of Year supported by a team of Guidance Counsellors.
Our learning support teachers provide a specialised environment for smaller groups of and/or individual students.  Our students avail of the opportunity to focus on skills and academic goals tailored to their individual needs overseen by our SEN and ASD teams.
All students are invited and encouraged to participate in extra-curricular activities.  Each year we celebrate those students who distinguish themselves in artistic, creative, sporting and academic achievement.  We celebrate our emerging student leaders who year on year advocate for inclusivity, diversity, a better society and clean environment through their involvement in local, national and international initiatives.  Our students achieve ongoing success through commitment, hard work and the holistic approach of our teaching staff.
As we begin a new academic year 2022/23, our dedicated staff look forward to working together with our students, parents and wider community to provide optimum educational outcomes for all our students at St Anne's Community College.
To take a tour of our school facilities and listen to the reflections of our teachers and students, please view our video below "We Are St. Anne's".
Beverley Hartigan
Acting Principal
Mission Statement
St. Anne's Community College provides Post-Primary Education for a student population of over 600 students. Each student is accepted as an individual with his or her unique talents and gifts which we as a staff hope to nurture and develop while they are in our care. We hope to produce school leavers who are confident, mature and responsible and are well equipped for the world of work and leisure.
At St. Anne's, we seek to develop the full potential of every student in an orderly caring environment where quality teaching and learning takes place. The key to this is in the strong spirit of collaboration that exists between the LCETB (Limerick & Clare Education and Training Board), Board of Management, staff, pupils, parents and the wider community.
This website gives an overview of school life, the range of programmes, subjects, facilities, extra-curricular activities and pastoral supports at St. Anne's.
Should you require any further information, please contact the school directly and we will be delighted to assist you.
Patronage
St. Anne's Community College is a Limerick and Clare Education and Training Board multidenominational and co- educational post-primary school.
Limerick and Clare Education and Training Board schools provide an inclusive, student-centred and holistic education to students in our communities. Our schools, through excellence in education, aim to enable every student to realise their potential through the provision of highly supportive school communities that nurture students' intellectual, cultural, personal, social, emotional, moral and physical development.
Limerick and Clare Education and Training Board schools recognise, respect and celebrate the identity of all of our students equally and are acknowledged as having a significant influence in promoting diversity – reflective of our changing society.
All Limerick and Clare Education and Training Board schools are funded by the Department of Education and Skills.
Chief Executive: George O'Callaghan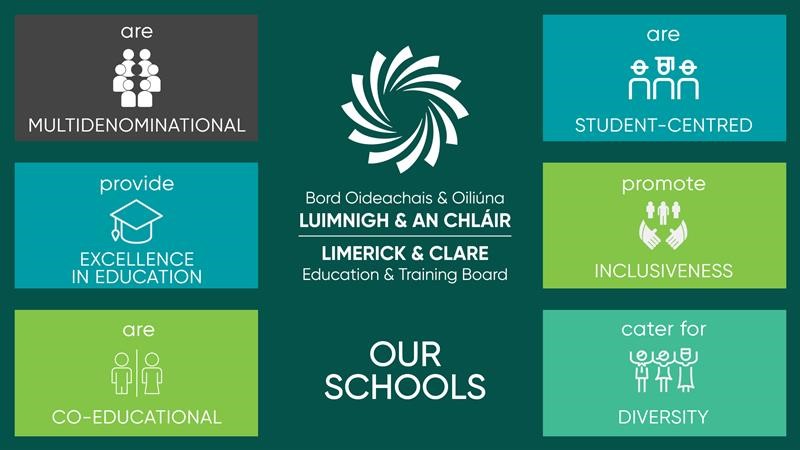 Click here for more information regarding Limerick and Clare Education and Training Board.