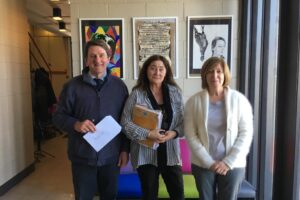 Chess Club
Chess is run at lunchtimes on Monday with Ms. Corbett in Room 7. It is open for all students who would like to play and all abilities are welcome.
Chess improves cognitive skills, including concentration, decision making as well as problem solving skills and other mathematical related skills. Chess is also proven to improve self-confidence and self-worth, increase attention span and increases memory capacity.
For the past number of years, all Transition Year students have had the opportunity to learn chess during class time giving them a great chance to learn a new skill. John Alfred, a chess master, has visited the school over the years giving masterclasses.
This year first year students will attend a Clare Schools Chess Tournament taking place in Tulla on March 11th. Students are attending practice sessions before the competition.
Previously, the school has hosted the Clare Schools chess tournament. Students have done very well in the competition and have brought back many medals for the school.
Students from St Anne's went to Laurel Hill in Limerick to show them how the chess club works. It was a great collaboration between the two schools.