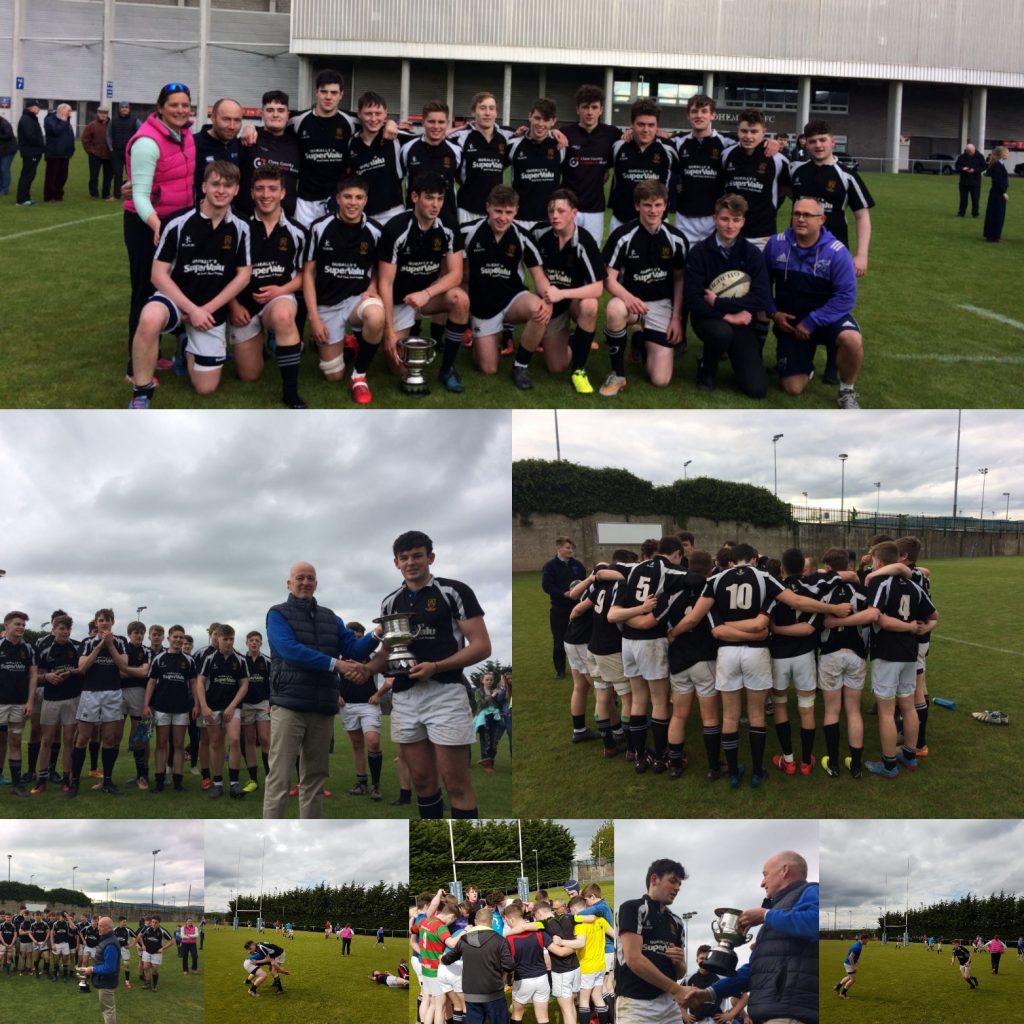 Friday night saw St. Anne's play Castleisland in the final of the U19 O'Gorman Cup in Thomond Park. The U19 team have been unlucky over the years reaching many finals just to fall short. The team travelled to Thomond with a sense of excitement and feeling that this was their year.
The match started with an air of nervousness and it would be Castleisland who would get their campaign off to the better start scoring an early try under the posts. This was converted to leave the score 7-0 after only 5 minutes. St. Anne's have always had great fighting spirit and would never let this early set back get in their way. After a great team effort, Gary O Brien went over for a great team try. Harry Byrnes (Captain) converted the try to leave the score 7-7. St. Anne's kept this momentum going and 4 minutes later Cian O'Donnell went over for a well worked try leaving the score at 12-7. With some great plays by both sides, Castleisland would score an important score just at the break of half time leaving the score at the break as 12-12.
Half time saw much needed team talks for both sides and it would be St. Anne's who would come back out with the fighting spirit with another great try from Gary O' Brien whoch would be converted by Harry Byrne. Score now standing at 19-12. St. Anne's were now playing with the belief that today could be their day and leading by example Harry Byrnes goes over for another try which he then converted. Score now 26-12 with only 15 minutes left to play.
The bodies from both sides were getting tired and sore as this close contest was coming to an end. With 10 minutes remaining, Castleisland scored a well structured try bringing the score to 26-17. This was quickly followed by a Castleisland penalty leaving many of the Killaloe supporters biting their nails as the game was within a score. The final minutes of the game saw chances for both sides but the St. Anne's boys with their fighting spirit held on for a famous 26-20 victory.
Congratulations to the team on a well fought victory.
U19 Team:
James Prentice
Felim Tuite
Rory Kennedy
Eddie Pooley
Kyle Collins
Jack Lynch
David Slevin
Gary O Brien
Evan Jones
Harry Byrnes (C)
Cian O Donnell
Ciaran Sheedy
Hugh Denning
Joseph McEvoy
Marc Loughran
James Hanly
Kieran Bourke
John Power
Conor Bourke
Liam Hart
Rory Miley