Teacher involved: Ms G Kearney
Students from any year group can participate but it has been running with just TY students for the last number of years.
The School Digital Champion Programme welcomes all levels of ability and students work together in teams of up to four to complete their projects. Full class participation is encouraged, with the four students on the team leading the project. The focus is on participation rather than competition. School Digital Champions, can develop a project from one of the following 3 themes:
School – Home
How can you find ways of using digital technology to support learning in school and beyond the walls of the classroom?
2. Local Community
How can you support your local community and its citizens to adapt to and benefit from using digital technology?
3. Local Entrepreneurship
How can you help your local small businesses to sell online and connect with their customers?
For more information check out the following link: School Digital Champion Information Sheet
As part of School Digital Champions, students get the opportunity to participate in workshops on different aspects of digital technology. There are also site visits to Google, RTÉ, EA Sports and dogpatch labs to name a few.
Our previous projects
2015/2016: Developing a school app
Team Members: Maeve Óg O Leary, Eithne Walsh, Ellen Lane, Hugh Denning and Beth Ardill
2016/2017: SAOR – Creating a digital resource for maths and english in SEN
Team Members: Emily Walsh, Maeve Gilmartin, Leah O Brien, Sadhbh Collins and Emma Foley
School Digital Champion Project Report for SAOR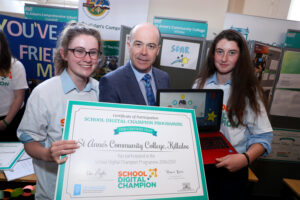 2018/2019: Creating a Transition Website
Team Members: Sarah Lane, Hannah Keating, Jennifer Daly, Adam McKeogh
St Anne's School Digital Champion 2019
School Digital Champion Report 2018/19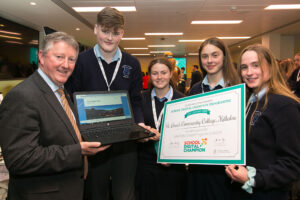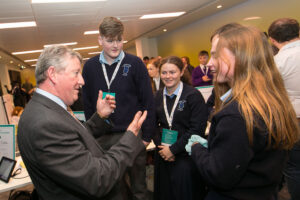 2020/2021: There were three teams involved with three very different projects.
Team 1: Covid 19 Application
Team Members: Hannah Beck, Cian Ryan, Daniel Fogarty and Aidan Mehta
School Digital Champions Covid 19 Report 2021
Team 2: Sustainable and Eco-Friendly shopping
Team Members: Freddie Costello and Síofra Foley
School Digital Champions eCommerce report 2021
Team 3: Discover Ballina/Killaloe
Team Members: Kate Ryan and Emma Meskell
School digital champion project 2021 – Discover Ballina Killaloe
2022: Creating a interactive space for Transition Year: Blogging Our Year
Team Members: Alice Walsh, Emily Byrne, Poppy McNamara and Rebecca Rogers