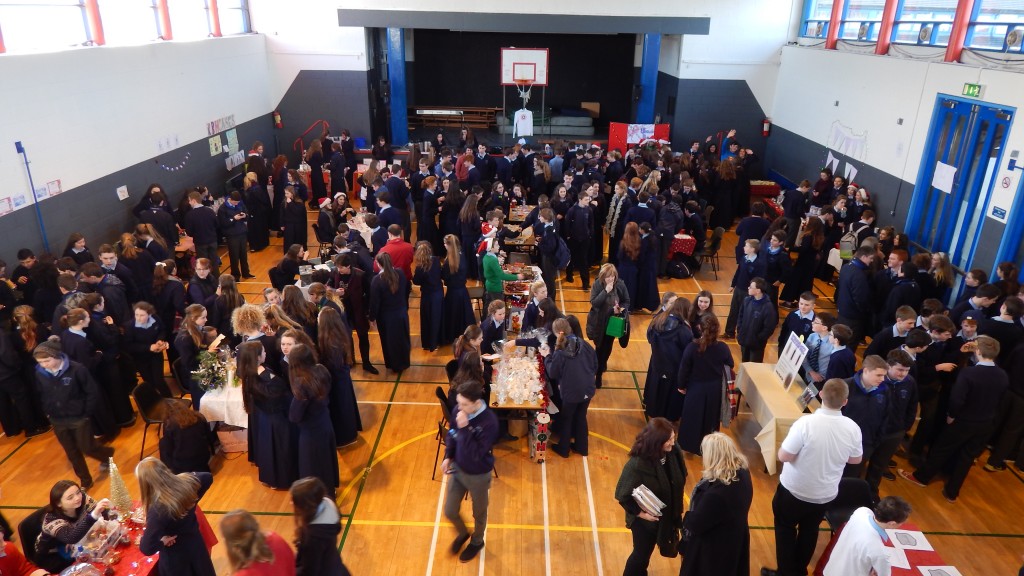 Enterprising Students Invest in Their School's Future at Annual Christmas Trade Fair
St. Anne's Community College Killaloe hosted its Annual Christmas Trade Fair on Friday December 11th last. The school's enterprise day goes from strength to strength with the students displaying an array of products created by the 1st Year and 2nd Year Business Classes and Transition Year students. With over 41 stalls, there was a wide range of products with something to suit everyone's taste and budget.
Among the stalls were many food products from fudge to home baking and smoothies and milkshakes. The students had also created their own wooden products for the Christmas market which were very popular. Targeting the sporting market, there were companies selling flavoured gum shields, super hero inspired under armour as well as a very clever product "Happy Legs" which combines sports socks with inbuilt shin-guards.
Another impressive and imaginative product was up-cycled furniture. It was clear from the array of products that there was a lot of hard work put into the creation of each product.
In keeping with the spirit of giving which is central to the celebration of Christmas there was also a fundraising stall for the local Cancer charity at Milford Hospice.
Entertainment on the day was led by Ms. Fiona Ryan, Music Teacher and provided by some of the school's many accomplished musician's.
The students led by their teachers Ms. Egan, Ms. Ryan and Ms. McNamara take part in the Clare County Local Enterprise Awards. They are visited by Ms. Teresa Mulvihill from the LEO and after much preparation and planning, source their products, develop their business plans and then test the market at the Trade Fair each Christmas.
A great festive spirit was evident in the school hall on the day with students, teachers and parents alike supporting the many mini-companies on show. Indeed, a great entrepreneurial spirit was also much evident on the day.
See Gallery for more pictures of the day.