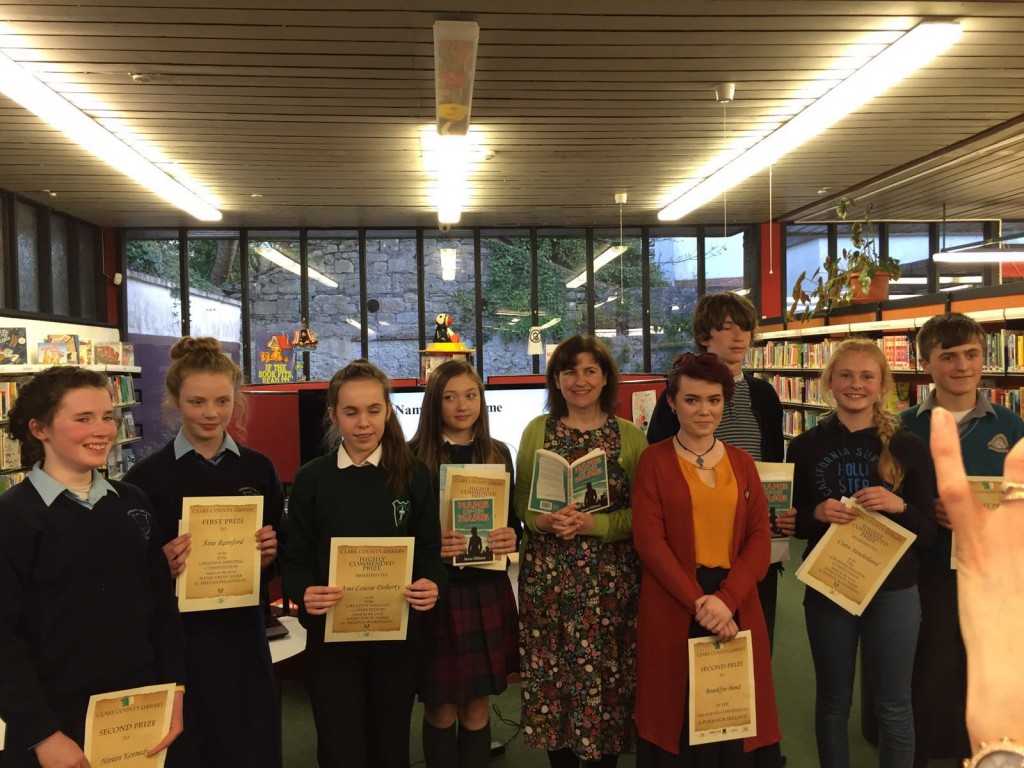 Clare County Library's annual Teen Week saw a diverse and enjoyable programme of events delivered to teenagers in Ennis, Scariff and Killaloe libraries during the second week in April. As well as the variety of events taking place, the students from the County were also given the opportunity to enter various competitions in creative writing.
Award-winning author Sheena Wilkinson was on hand on the night to give out the prizes to the winning students in the different categories.
Brooklyn Bond (4th Year) and Noreen Kennedy (2nd Year) were joint runners up in the County Poetry Competition.
Áine Rainford (1st Year) was the winner of the creative writing competition. All prize winners read their poems and prose writing for an audience of fellow students, teachers and parents in what was a most enjoyable event for all present on the evening.
Congratulations to all the students who entered the competitions and a thank you to their English teachers, Ms. Shanahan, Ms. Noonan, Ms. Murphy and Ms. O'Brien for mentoring the students.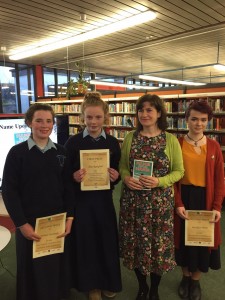 Áine's Creative Writing Piece:
May 1916
Dear Diary,
This journal thing is a wee bit strange. I was just thinking (although it was a student who suggested that I should writing a jorunal) I never really have gotten the hang of it.
I would like to say I have benefited from this writing experiment, but that's up to wee Helen and her mother to decide.
It's been a few weeks since the rising.
There is a thought at the back of my mind and it's been there all week. I feel I must write about it; Michael.
We are all very worried about him.
After Helen went on her wee adventure to Derryward, she came down on the train (the following Monday) with Michael.
I managed to sneak in a wee conversation with Michael the night before he went back to the front.
We sat, cheeks blushed from the burning fire beside us, and we talked and talked.
"Uncle James." He sighed, "I don't know what I'm to do."
He was scared and felt guilty, as any one in the lad's situation would have felt.
He took a deep breath. Then Michael spilled his heart out…
He killed a man. Not even a man, a boy. Though he had no choice. An order is an order.
I was glad that he had told me.
Michael and I had always clicked, even when he was a wee lad.
When Sean was not behaving himself, or having a moment, Michael would always have a place at our house to stay if he needed it.
It was important he could tell me these things.
If not me, who?
Helen? Maybe.
Though he should be able to talk to me like a papa.
His own papa wouldn't talk to him.
After our talk, Michael stood up slowly, hands on his knees.
As he started walking towards the door on his way to bed, he tripped over a ruffle in the rug and fell on his knee awkwardly. He jumped up without a bother on him. All that training, I thought.
He had cut his knee. It had started to bleed. He stumbled to the kitchen, trying to avoid getting blood on the tiles. He got some tissues, and pressed hard on his cut.
He was grand, but what surprised me was his reply after I asked him if he was okay.
He said simply,
"It hurt more than I expected. Less than I deserved."
He looked at me with a meaningful expression before walking off to bed.
He was thinking very hard about something.
Something worse than a sore knee.
We both knew it.
An inner demon? All of his sins? A dead boy lying in a pool of his own blood by the GPO?
I just hope the lad can forgive himself, or by god we'll all be sinners.
On a compeltely different note…
I have been thinking of Helen a lot lately. Sometimes I think she might feel as though she is playing a giant game of tug of war, Helen being the rope.
Family, friends, parents, cousins, you could say, all on different sides.
Pulling.
Tuggling.
Winning.
I cycled to my dear pal, also a teacher, in Newcastle on Good Friday.
We talked a lot about education for girls and jobs and that kind of stuff.
Helen kept on popping into my mind, as she is fourteen now.
I want Helen to become everything and anything she wants to be.
I hate to see such clever children throwing their futures to waste, going to the mill, or the shipyard at such a young age.
I do hope Helen will go to Belfast Collegiate. I am really trying to encourage all my students to go to college.
Okay, I think that's enough for today.
I must go now, I really should write more often. I'm happy to say I do find joy in writing this. In these dreadful rebellious days you can't tell anyone anything without the worry of them snitching. When I write, I feel as if I'm telling someone.
It's… comforting.
Talk soon,
James.
Helen just walked into my office. She offered me a cuppa.
She really has grown up this past year.
Sometimes I forget she's only fourteen…