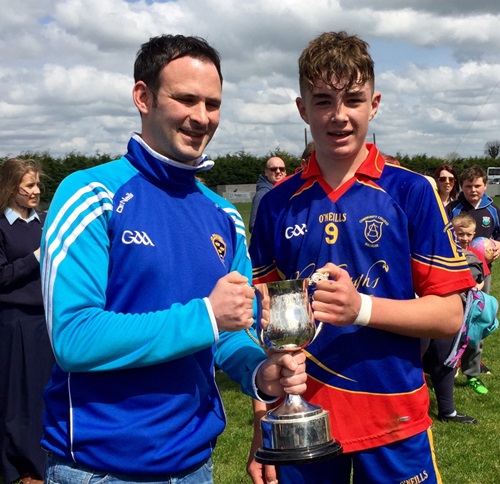 Munster U 15 Corn Chaoimhín Uí Mhearáin Hurling Champions 2016
St Anne's Community College, Killaloe 1-17  PresentationBallingarry 2-4
St. Anne's Community College, Killaloe claimed their first Corn ChaoimhinUíMhearáin Munster PPS Un.15 Hurling title against Presentation Ballingarryin impressive fashion ona glorious afternoon at The Ragg, Drom-and-inchon Friday afternoon, May 6th
The final scoreline flattered the winners who opted to play against a slight breeze in the first half. It was a very entertaining game, where with fifteen minutes remaining on the clock a minimum of one point separated the sides. From this point on St. Anne's dominated the game, scoring 1-6 without reply.  Arguably the turning point in the game was when CathalMcKeogh scored a goal late on in the second period to put the contest out of reach.
St. Anne's raced into an early lead and were four points up with eight minutes gone compliments of two points each from Conor Power and Dylan McMahon. Presentation Ballingarry registered their first point on the 12th minute, following this up with some excellent points and a crucial goal scored by their full-forward.  Anthony Ryan. St. Anne's kept the scoreboard ticking over however over the remainder of that first half, with some well executed scores taken by Liam Hart, Davy Boland,  Evan Connolly and a free on the stroke of half time from Dylan McMahon leaving a minimum of two points between the sides at half-time on a scoreline; St. Anne's 0-8, Presentation Ballingarry 1-3.
St. Anne's came out of the blocks quickly in the second half, scoring two points in quick succession on the 36th and 37th minute through Dylan McMahon and Sam Loughran.PresentaionBallingarry came storming back scoring a fantastic goal on the 37th minute. A titanic battle developed between the sides for the next ten minutes  with the minimum of one point separating the sides by the 45th minute. However, one further point from play and two frees from Dylan McMahon, a point from Dara King and Evan Connolly, two pointed frees from Mike Gough and a well taken goal by CathalMcKeogh saw St. Anne's score 1-6 without reply in that final quarter to clinch the title. Hugh determination, work ethic, method, fitness and markmanship were the contributory factors to their success.
It was very much a team performance with no fewer than nine players getting on the scoresheet. Liam Hart was named man of the match for his outstanding fielding of the ball, excellent defensive display and even chipping in on the scoreboard. Captain Dylan McMahon led by example from the start putting in an excellent performance, fielding some great ball, linking the play very well which also contributing personally with no less than seven points (4 frees) over the course of the game. Their defence also deserve great credit as a unit. They were watertight in the last 15 minutes, continually heaping pressure on any opposition player in possession of the ball and forcing them into mistakes. Players such as Mike Gough, Liam Hart, Sam Loughran and Patrick Lucas were very solid in defence, exhibiting some excellent fielding while all the half-back line contributed to the scoresheet. Meanwhile players such as Evan Connolly, Conor Power, Dara King and  CathalMcKeogh also made telling contributions in attack, while the link play of David Boland was once again of the highest quality.
Overall it was a very solid team performance where everbody performed. It was a good campaign for the school with victories over ColaisteDúnIascaigh, Cahir, Mount Sion CBS, SMI Newcastlewest, St. Josephs Borrisoleigh and Presentation Ballingarry.
Congratulations also to teachers Mr. Colm Hayes, Mr. Shane Golden and Mr. Mike Casey for all the hard work they put in throughout the year with the lads. Credit is also due to Mr. Seamus Walsh, Mr. Michael Gough and Mr. Kelvin Harold for their valuable input. Well Done to all.
St. Anne's C.C. Killaloe:Matthew Power (Ballina), Tommy Walsh (Clonlara), Patrick Lucas (Smith O'Briens), Dylan Nolan (Smith O'Briens), Micheal Gough(0-2 (2 frees)) (Smith O'Briens), Liam Hart (0-1) (Ogonelloe), Sam Loughran(0-1) (Ballina), Evan Connolly (0-2) (Smith O'Briens), Dylan McMahon(0-7 (4frees)) (Clonlara)(Capt.), CathalMcKeogh(1-0) (Ogonelloe), Robbie Breen (Ballina), Dara King (0-1) (Ballina), David Boland (0-1) (Broadford), Conor Power(0-2) (Ballina), Dean Lawlor (Smith O'Briens).
Substitutes: Luke Kennedy (Ballina) for Robbie Breen (50min.), Darragh Moloney (Smith O'Briens) for Dean Lawlor (50min.) Alex Mason (Broadford), James Power (Ballina), Niall Helebert (Ballina), Aaron Conlon (Clonlara), Glenn Jones (Ahane), Adam Moloney (Smith O'Briens), Michael McMahon (Ballina), Conor Conway (Smith O'Briens), Nathan Kenny (Smith O'Briens), Cian Commins (Ballina), Joe Howard (Clonlara), Cian McLoughlin (Smith O'Briens), Martin Howard (Clonlara), Evan Coleman (Ballina).
Referee: Eamonn Phelan.